Tile Installation Guide
READ this entire installation guide before beginning your installation.
ACP is not responsible and will not be held liable for project failures if installation guidelines are not followed. ACP recommends that you install these tiles over an existing substrate to ensure proper structural integrity. Palisade tiles are not intend-ed to be attached to raw concrete, poured concrete walls or concrete block basement walls.
FOR INSTALLATION IN DRY ENVIRONMENTS
Appropriate substrates in a dry environment would include framed walls with existing tile, drywall, cement board, OSB, or plywood. Palisade tiles must be attached to structures that comply with your local building codes and have incorporated appropriate moisture abatement measures.
FOR SHOWER, TUB OR DIRECT WATER ENVIRONMENTS
Although Palisade tiles are 100% waterproof when used with sealant in the seams, we recommend you follow your local building codes for wet environments like shower and tub enclosures. In a tub or shower area, existing ceramic tile walls can be covered with no additional preparation. Otherwise, installation over a waterproof substrate is required, such as Cement Board®, Schluter Kerdi Board®, GP Densheild®, Johns Manville Go Board®, Hardiebacker®, WPBK Triton®, Fiberock® and equivalent products. Always follow manufacturer's installation instructions to create a waterproof enclosure
FOR BACKSPLASH, LAUNDRY ROOM OR OTHER DAMP ENVIRONMENTS
We recommend using a silicone sealer in the tile's tongue and groove seams for damp environments. Follow manufacturer's directions and your local building code ACP, LLC is not responsible or liable for any labor costs or damaged product incurred as a result of improper installation. All product defects are covered under our 10-year limited warranty. Due to manufacturing variations, we cannot guarantee an exact color match from lot to lot. Prior to installing Palisade tiles and trims on your walls, please unpackage & lay out all purchased product to ensure color consistency. If you encounter unreason-able color variation, please give us a call at 1-800-434-3750 (7am-4:30pm CST, M-F) so that we may assist you with your project.
Tools and supplies needed:
Protective eye wear
Measuring tape
Utility knife
Level
Hand saw or circular saw/table saw
Drill bit & jig saw (for cutting holes)
Caulking gun for 10.3 oz. adhesive tube
Adhesive for PVC panels
Silicone-based sealant
Optional: Matching trim
Optional: Wood shims
Wall Tile Installation
Before you begin installation
Before starting, make sure all surfaces are clean, dry, smooth, and free from dust, grease, wax, etc. Clean the back surface of the panels by wiping with a clean cloth.
It is recommended that you perform a "dry layout" prior to applying any adhesive. Measure walls, check for level and square. Depending on dimensions and room construction, you may need to trim some panels accordingly. Depending on your project, when fitting for dry layout, panels can be centered at a focal point, such as behind a sink or the center of a room. For the purpose of the layout only, build out from both sides of the focal point, to ensure how the tiles fit into the space.
Installation in environments exposed to a direct flow of water (shower, mud room or garage) require a 1/8-inch bead of sealant to be used in all tongue and groove connections (image A). Add a bead of the sealant along recently cut edges to be placed into the corner. Repeat this process on perpendicular tile also facing corner (image B).
Image A
Image B
Image C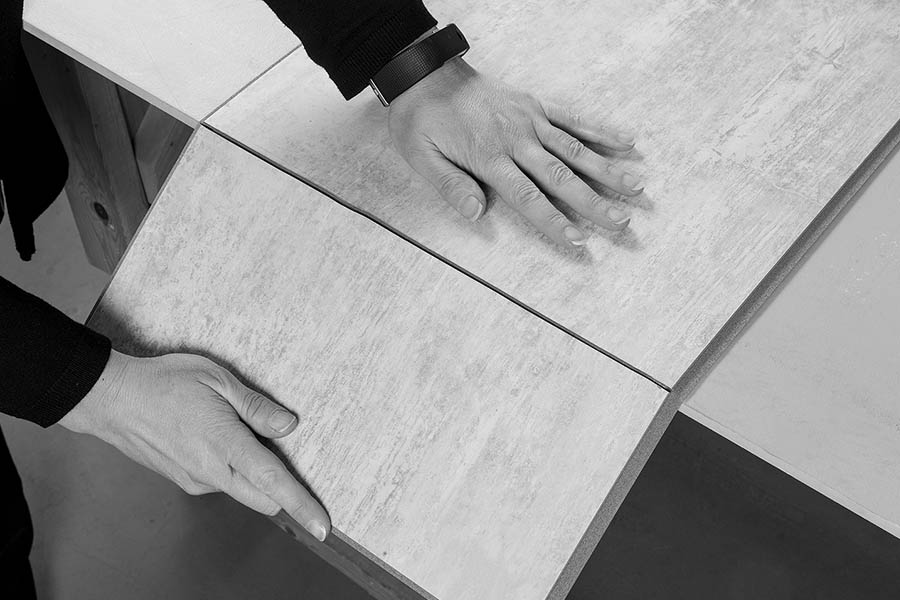 Image D
Cut Palisade tiles by scoring and snapping with a utility knife. (image C, D). This method may require sanding the snapped edges.
You can also use standard wood working tools like a table saw or circular saw with a fine-tooth blade to provide a clean, smooth cut (image E). Use a 60-tooth blade or higher. To ensure the base of the saw does not scratch the surface of the panel, we recommend protecting the surface with blue painter's tape.
Image E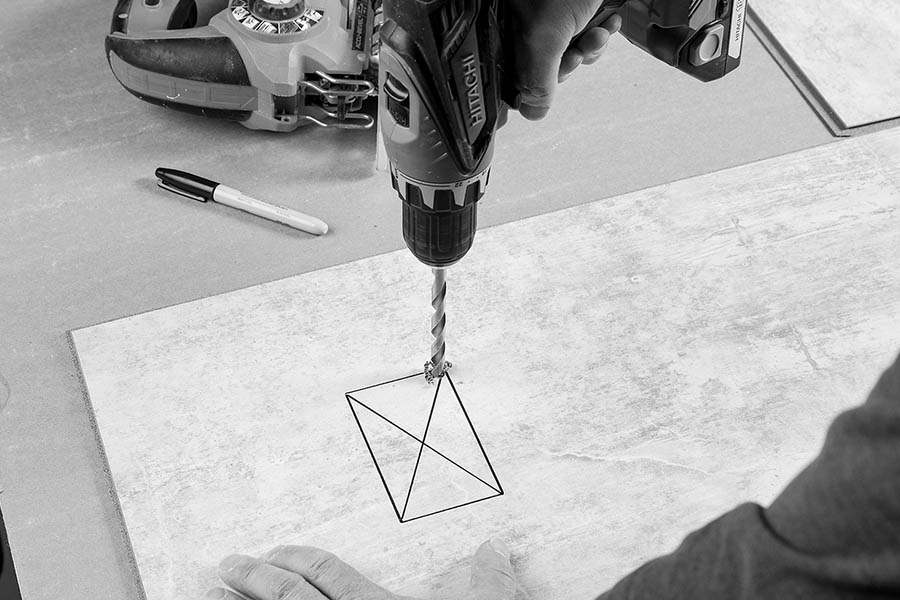 Image F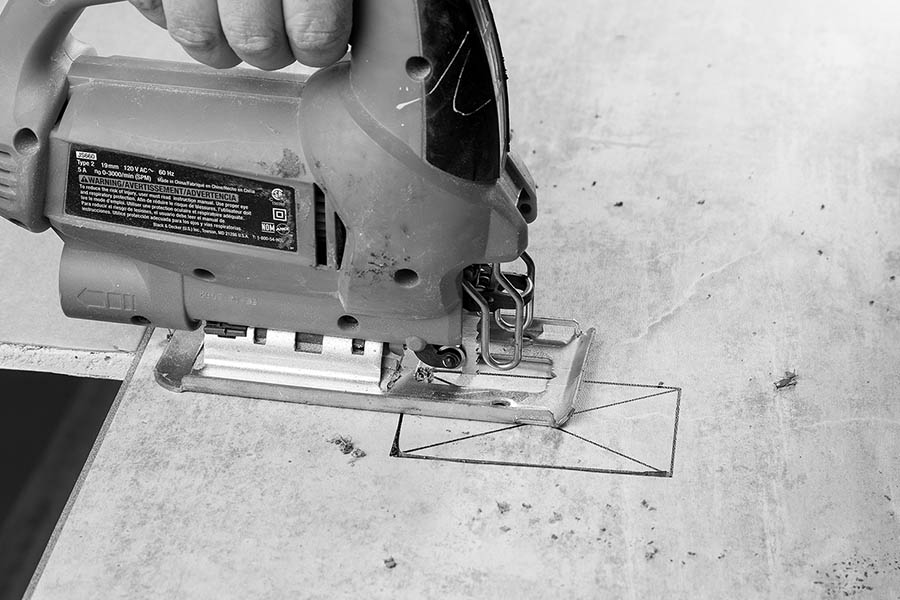 Image G